I had come to know recently that Arvind Kejriwal recently won an online poll on the official website of Time magazine as the man who most positively influenced the world the last year. Needless to say, I was stunned by the verdict because while I know Kejriwal is awesome, I had no idea that his 49 days of government  had such a great impact on the world at large. (Modi came second). Of course the possibility of manipulation of an online poll, as scientifically well-set up as the one of Time, by fanboys of both Kejriwal and Modi, never occurred to me. And definitely any kind of dishonest manipulation by the supporters of a party that is all about revolutionary honesty seemed to be most impossible.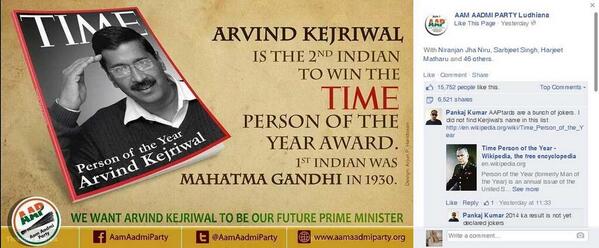 Anyways, today I came to know, that Kejriwal has won the Time Person of the Year, apparently the second Indian after Mahatma Gandhi to win it. (Original screenshot on the page of a local chapter of AAP, subsequently removed but at time of writing, is given above. This post to the FB page of a local chapter of AAP still has the post at the time of writing. Have taken a screenshot) This was of course beyond awesome, since he would be the only man in history to have won the Person of the Year, only 4 months into the year. Which means Time's editors have realized that his performance  in 49 days of government was so awe-inspiring that nothing anyone might do in the next 8 months could ever match up to him. After all, who understand time better than Time. As a matter of fact, I believe the exact words used by the editor of Time while evaluating Kejriwal's portfolio was "Kraantikaari, Bahoot hi Kraantikaari".
The more I thought about it, the more logical it seemed.
After all in 2013, it was the Pope who won the Time Person of the year.
And Arvind Kejriwal is very similar to the Pope.
How? Let me explain.
1. They wear white caps.
2. They rule(have ruled) over a dominion whose influence far exceeds its size.
3. They have embraced poverty.
4. Not only are they both poor, but they live in small bungalows that they did not ask for but are provided to them by their office.
4. They claim to be protected by God but still have a backup plan.
5. They have very loyal supporters who will tear into anyone that doubt their divinities.
6. They ask you to believe their words without providing any evidence
So if one wins it in 2013, the other surely should in 2014.
Congratulations sir. And no this post was not sponsored by Ambani, Adani or Advani.